I've fallen in love with barley.... Rice has never been one of my favorite foods, no matter how you cook it. I'll eat it, but it just doesn't do it for me. However, after trying barley a while back, I adore it!! it's a healthy food, whole grains, lots of fiber, no fat....mmmmm. So finding this recipe I had to try it. It was great!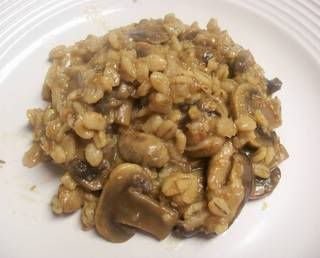 1 T. margarine
1 (8-ounce) package presliced mushrooms
1 (3 1/2-ounce) package shiitake mushrooms, sliced
1 cup quick cooking barley
1 (1 ounce) envelope onion soup mix
2 1/2 cups water
Heat margarine in a medium nonstick skillet over medium-high heat. Add mushrooms; saute 5 mintues or until tender.
Combine barley, onion soup mix, water and mushrooms, in a saucepan. Cook over low heat until barley has absorbed all the water.
Garnish with chives, if desired.