Nutella Truffles
These are soooo good. They are like peanut butter balls, or buckeyes that everyone makes for christmas, just a different twist on the idea. They are extremely easy to make, took no time at all, other than the chilling time. Make sure to use cinnamon graham crackers because the cinnamon adds a different depth to the balls. I think I'm now addicted to Nutella!! Pictures will be coming later :)
Sorry for the bad pics, but it gives you an idea :)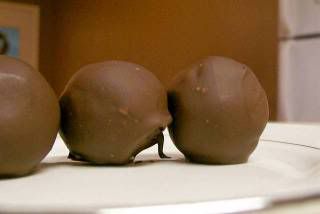 1 1/2 cups of Nutella
24 cinnamon graham cracker squares, crushed
1 cup powdered sugar
1 T whipping cream
12 ounces semisweet baking chocolate, chopped
2 tsp shortening
2 T finely chopped toasted hazelnuts *optional
1. Line a baking sheet with waxed paper, set aside. Beat chocolate-hazelnut spread and crushed graham crackers in a large mixing bowl with an electric mixer on medium speed until combined. Gradually stir in powdered sugar. Stir in whipping cream to make a stiff mixture. Shape mixture into 1-inch balls; place balls on prepared baking sheet. Chill for 1 hour.
2. Cook and stir chocolate and shortening in a medium saucepan over low heat until melted and smooth.
Remove from heat. Quickly dip balls, one at a time, into melted chocolate using a fork. Draw the fork across the rim of the saucepan to remove excess chocolate. Place candy on the baking sheet lined with waxed paper. If desired, sprinkle with hazelnuts. Chill for about 2 hour or until set. Makes 54
To store: Place candy in a single layer in an airtight container; cover. Refrigerate for up to 2 weeks.