Andouille Sausage, again :)
This recipe is wonderful. I have made it twice now, once for our anniversary dinner and once for us and a friend. Ignore the amount of fat in it, it is seriously wonderful. The green sauce is THE HOTTEST STUFF I HAVE EVER TASTED. I can handle anything spicy, this I could not eat. My husband LOVED it. A cajun friend said this stuff was HOT. So, if you make it, taste a drop before adding to your plate. The first time I made it I used kielbasa sausage because (as stated in a previous post) I could not find andouille sausage, but if you can find it, use it. It makes it much better.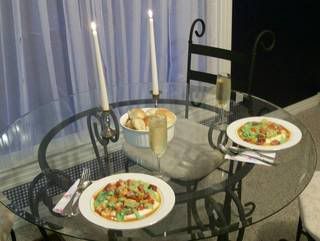 Our table set for our anniversary dinner, awwww :) *disclaimer* We do not drink alcoholic drinks, that is sparking white grape juice :)
Spicy Shrimp with Andouille Sausage on Grits

from epicurious.com
Ingredients
1/3 cup green hot pepper sauce
1/4 cup white cooking wine
1 shallot, chopped
1 tablespoon fresh lemon juice
1 tablespoon rice vinegar
1 cup whipping cream
5 cups water
3 cups whole milk
1/4 cup (1/2 stick) unsalted butter
2 cups corn grits*
1/4 cup olive oil
8 ounces smoked andouille sausage,** sliced
1 red bell pepper, chopped
1 yellow bell pepper, chopped
1/2 cup minced onion
4 garlic cloves, chopped
30 uncooked large shrimp, peeled, deveined
4 plum tomatoes, chopped
1 teaspoon Cajun seasoning
1 teaspoon Old Bay seasoning

Combine hot pepper sauce, wine, shallot, lemon juice and vinegar in heavy medium saucepan. Boil over medium heat until reduced to 1/2 cup, about 15 minutes. Stir in 1/2 cup cream. (Can be made 1 day ahead. Cover and refrigerate.)
Bring 1/2 cup cream, 5 cups water, milk and butter to simmer in heavy medium saucepan. Gradually whisk in grits. Simmer until grits are very soft and thickened, stirring frequently, about 1 hour.
Meanwhile, heat olive oil in heavy medium skillet over medium heat. Add sausage, both bell peppers, onion and garlic; sauté until vegetables are tender, about 8 minutes. Add shrimp, tomatoes, Cajun seasoning and Old Bay seasoning and sauté until shrimp are opaque in center, about 6 minutes. Season to taste with salt and pepper.
Bring hot pepper-cream sauce to simmer. Spoon grits onto 6 plates, dividing equally. Spoon shrimp mixture over grits. Drizzle hot pepper-cream sauce over and serve.
*Corn grits, also known as polenta, are available at Italian markets, natural foods stores and some supermarkets. If unavailable, substitute 2 cups regular yellow cornmeal, and cook about 30 minutes.
**A smoked pork-and-beef sausage available at specialty foods stores. Smoked bratwurst, kielbasa or smoked Hungarian sausage can be substituted.